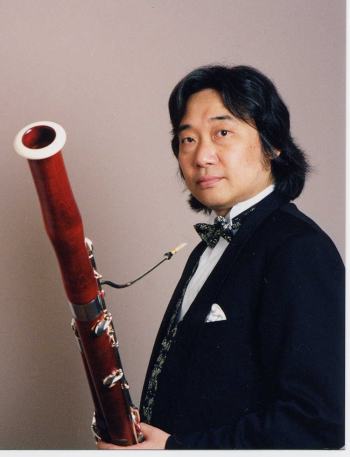 Masahito TANAKA
Internationally acclaimed as one of the greatest bassoon virtuosos with unparalleled technique and musical refinement, Masahito Tanaka has brought the bassoon to a new level of eminence and acceptance as solo instrument.In demand as a soloist, he has presented solo recitals and performed concertos throughout Europe, Asia and the United States. His recordings, especially his transcriptions for PAVANE-records, have brought Tanaka much critical acclaim from major international publications;

"... the daunting pyrotechnics with a sensitivity of phrasing..." Hi-Fi News
"... the flexibility of the human voice..." Le Monde De La Musique
"... a sound of exceptional homogeneity..." Harmonie-Opera
Dedicated to expanding the bassoon repertoire, and extending its technical and expressive possibilities, Tanaka contributes to the bassoon repertoire through commissions and performances of new works written for the bassoon.
His dedication to the performance of contemporary music has made Tanaka a leading interpreter of new music.
Tanaka currently holds the distinguished position as the solo bassoonist of the Royal Chamber Orchestra, Tokyo. Previously, he served as the principal bassoonist of leading orchestras of the world, including The Hague Philharmonic, Das Sinfonieorchester des Sudwestfunks, Orchestre Symphonique de l'Opera National-Theatre Royal de la Monnaie and The New Japan Philharmonic.
Tanaka received his musical education in his native Japan at The Toho-School of Music, as well as New England Conservatory, Boston University, and the Sweelinck Conservatorium. His principal teachers include M.Tozawa, M.Ruggiero, S.Walt and J.Mostard.